Article: How to Style your O8Lifestyle Jacket this Fall Season!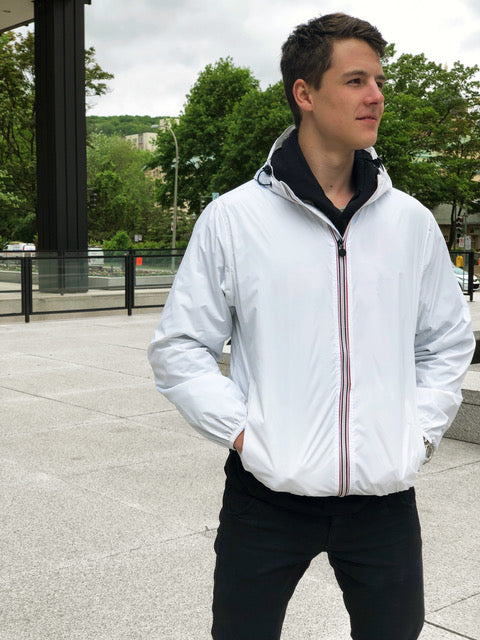 How to Style your O8Lifestyle Jacket this Fall Season!
Fall is here and we're ready to change up our wardrobe! We'd like to share with you some of our favorite ways to style and rock your O8Lifestyle packable rain jacket any day and anywhere this autumn.
1. Rock it with a Hoodie or sweater!
Sweater weather is here to stay and we're loving it! Rock your favorite hoodie on those chilly mornings or afternoons and throw your O8Lifestyle jacket over it! This casual, laid-back look is perfect for when you're heading to class, going to the movies or on your weekend morning walks in the park or through the city.
 2. Clip it on or wrap it around!
50% chance of it raining today? No worries, you can still sport your O8Lifestyle jacket on you without wearing it completely. Using the pouch's small clip, you can hang it onto your pants waistband or your bag. Also try sporting it tied around your waist for a 90s throwback look. Whatever the weather, keep your O8pack handy for any unexpected rain showers. 
3. Pair it with your blue jeans!
Keep it sweet and simple and wear you O8Lifestyle jacket with your good old pair of blue jeans. Whether you rock a dark or light wash denim, your O8Lifestyle jacket will pair just right with them for a look that is casual and cool. 
4. Keep it simple with your favorite T-shirt!
Rainy days don't have to be so blue! Rock your favorite t-shirt, whether it be classic white or playful, simply add a pop of color with one of our bright colored or print O8Lifestyle jacket to finalize your look.
5. Layer it on top of a puffer jacket!
Windier days and the temperatures dropping, time to bring out the puffer jackets! Stay extra warm and dry from the rain by layering your O8Lifestyle jacket over your puffer jacket! This look is just what you'll need when winter is near and all the leaves have fallen off the trees! 
We hope these ideas inspire you to style your O8Lifestyle jacket in different ways this fall season. Whenever, whatever the weather, we've got your pack!
Love,
The O8Lifestyle team
Don't forget to tag us in your #o8Lifestyle adventures! @o8lifestyle